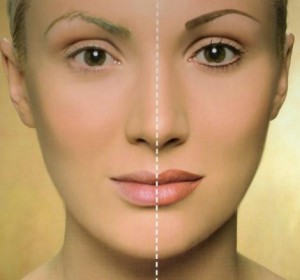 Permanent makeup is a cosmetic technique which employs tattoos (permanent pigmentation of the dermis) as a means of producing designs that resemble makeup, such as eyelining and other permanent enhancing colors to the skin of the face, lips, and eyelids.
It is also used to produce artificial eyebrows, particularly in people who have lost them as a consequence of old age, disease, such as alopecia, chemotherapy, or a genetic disturbance, and to disguise scars and white spots in the skin such as in vitiligo. It is also used to restore or enhance the breast's areola, such as after breast surgery.
Permanent Makeup Eyebrows
– Avoiding skin products, such as Retin A, Glycolic Acid, and Alpha Hydroxy Acids (AHA), as well as the sun could help people who have undergone treatment to preserve their permanent makeup. Additionally, sun block could be used to prolong effectiveness. Touch-up procedures, however, may still be necessary to perfect lines and darken pigment over time.
– Some may have permanent eyebrows applied to replace natural eyebrows lost due to alopecia or chemotherapy. Permanent makeup may disguise scars or white spots from vitilgo.
Permanent Makeup Eyeliner
Eyeliner can be applied in many styles and colors, from soft, natural-looking lash enhancement to a defined line–the choice is yours! Some people feel both upper and lower eyeliner suits their needs best, while others feel only an upper or a lower eyeliner is appropriate for them. Whatever look you choose, you will wake up, shower, exercise, work, swim, and go to bed always looking your best. No more tattle tale eyeliner smear or smudge during the day, no more concern when participating in sports activities and best, your appearance remains consistently fresh appearing throughout the day and night.
Permanent Makeup Lipliner
For those individuals who do not have a clearly defined natural lip line or who simply wish to extend the one they have, permanent lip liner and blending can create the perfect effect.